LePage PL Premium Construction Adhesive is a one component, polyurethane based, moisture-curing adhesive perfect for a wide variety of projects. PL Premium is 3x stronger than ordinary construction adhesives.
This paintable and water-resistant construction adhesive is great for both exterior and interior applications with no strong solvent odour and can be applied directly to wet and frozen surfaces without shrinking for exterior projects.
PL Premium Construction Adhesive permanently bonds together almost any substrate and sets in 30 minutes and fully cures in 24 hours even in cold temperatures.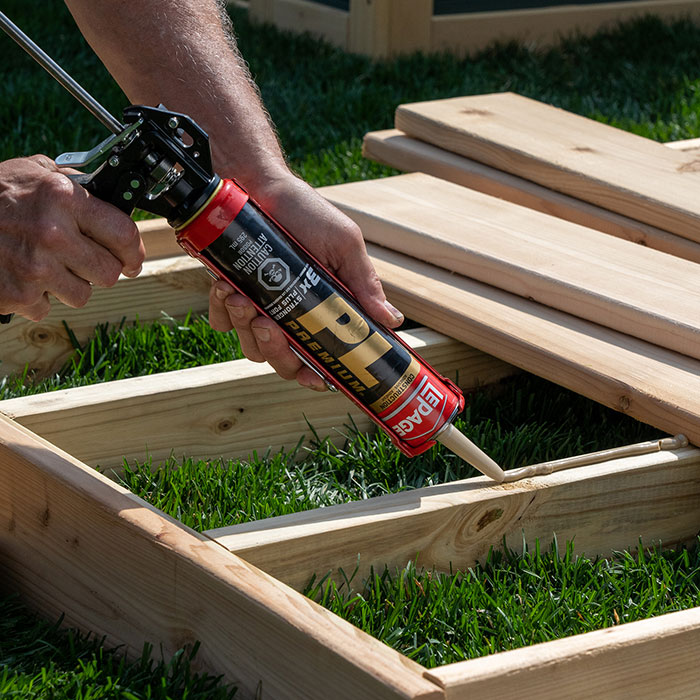 Ideal for a variety of projects including sub floor installations, LePage PL Premium bonds to most common construction materials such as wood, plywood, OSB, MDF, treated wood, hardwood, flooring, concrete, stone, granite, marble, slate, masonry, brick, foam insulation of all sorts including EPS (expanded polystyrene foam), XPS (extruded polystyrene foam), and polysio (urethane) foam, carpets, metal, stainless steel, galvanized metal, lead, cement-based products, fibre cement panels, ceramic, fibreglass, drywall, rigid and cellular vinyl/PVC trim and moulding and polyash trim.
LePage PL Premium is low in VOC and meets regulatory requirements.