What's your Sheen?
When it comes to wood floors, what is the sheen you most prefer? There are mainly 3 levels: glossy, satin and matte. Sometimes semi-gloss is available as a fourth option. The glossier you go, the more light reflects off the floor, which can show more dirt and imperfections, and the more slippery your floors will be. The sheen level you prefer is more of an aesthetic choice and does not impact durability. Generally, the more matte a floor finish is, the more casual it looks. Note that some types of flooring may be limited in the finished sheen available.
Layout pattern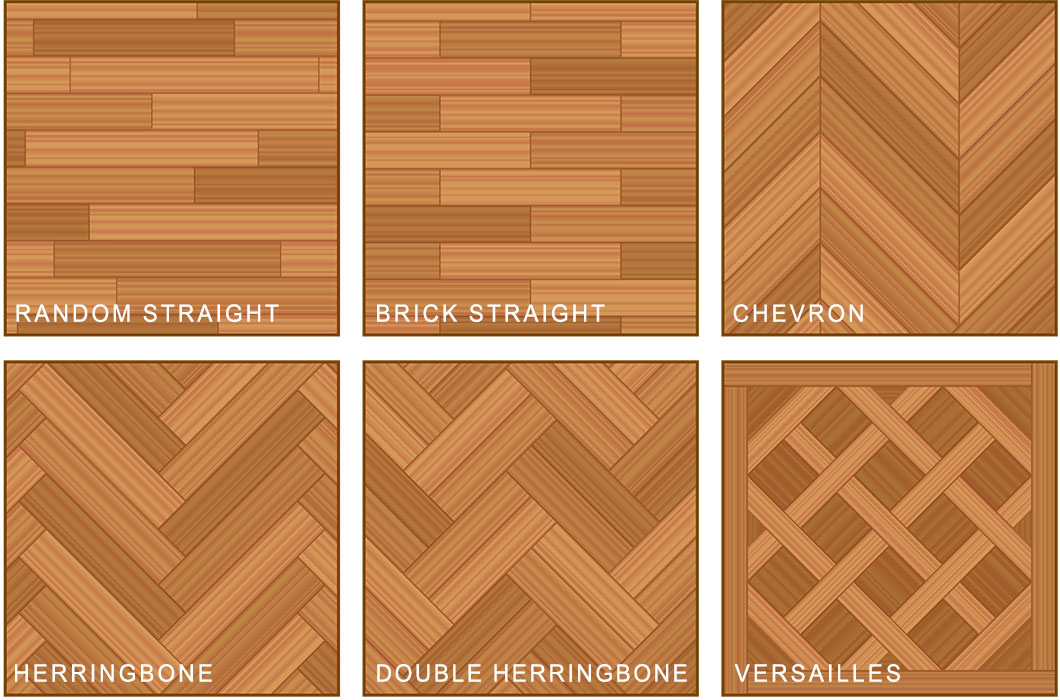 Choosing your flooring layout pattern is a very important step in planning your project. It can affect the way the space looks and the overall flow of your home.
The general rule of thumb is to install perpendicular to the floor joist allowing the flooring to keep its structural integrity if the joists sag but exceptions can be made with a strengthened subfloor.
The most popular pattern is the classic random straight lay but there are other options worth considering.
Herringbone is a pattern created by alternating rows. The overall look is a zig-zag with the ends of the equal sized pieces overlapping one after the other. A variation is the Double Herringbone which involves laying 2 planks side by side to double up the pattern. These have grown in popularity along with the Chevron pattern.
Chevron is similar to Herringbone but the ends of each plank are cut on the diagonal.
The Versailles floor pattern is a classic diagonal basket-weave within a frame of wood strips. The layout pattern and direction you lay your flooring should match your personal preferences.
Consider how each room flows together and also consider any architectural details (like a fireplace) that may be impacted. Do you want your room to look visually bigger or smaller and cozier?
If you are unsure, check out the way floors have been laid in your friend's and family's homes. The more you pay attention to direction and flow, the easier it will be for you to make your decision.